Did you know …? There is a reason credit unions are exempt from income taxes.
It's because all credit unions are not-for-profit cooperatives that are owned by their members. And while the members come from all walks of life' by and large those who belong to credit unions are everyday people — 96 million of them' in fact' across the U.S.
As not-for-profits' credit unions return what they earn to their members in the forms of lower rates on loans, higher returns on savings and lower and/or fewer fees.
In fact' for every $1 of their tax exemption' credit unions return $10 to consumers in better rates and lower fees. That's a solid investment in our communities. Now' some (mostly banks) say credit unions should pay income taxes' even though it was banks (not credit unions) that took huge governmental bailouts.
The truth is' if credit unions were taxed — and remained not-for-profits — it's unlikely their members could continue to receive lower rates on loans' higher savings return' and low fees.
You might say taxing credit unions is really a tax on 96 million credit union members. To learn more about credit unions' visit aSmarterChoice.org.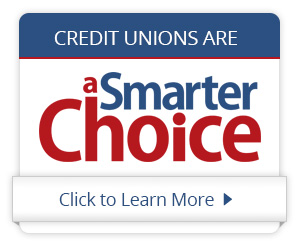 There's never been a better time for credit union members to Invest in America. That's why credit unions have teamed up with U.S. automakers to offer members great discounts on new American-made vehicles.
All eligible current and new credit union members have the unique opportunity to get a great discount on a new vehicle from General Motors. While the discounts vary depending on which vehicle you choose, everyone will drive away with a great deal.
CLICK TO HEAR ABOUT FEDERAL INSURANCE FOR YOUR SAVINGS AT CREDIT UNIONS
Credit unions are financial cooperatives, owned and controlled by the people who use their services, their members.

Credit unions serve groups that share something in common, such as where they work, live, or worship. Unlike banks or other savings institutions, they are not-for-profit, which means that earnings are returned to members in the form of better rates on their savings and loans or are invested in new or improved services.
Credit unions, like other financial institutions, are closely regulated. The National Credit Union Share Insurance Fund, administered by the National Credit Union Administration, an agency of the federal government, insures deposits of credit union members at more than 6,000 federal and state-chartered credit unions nationwide. Savings are insured to at least $250,000.